About
Offering answers, support, and hope for patients and families with bone marrow failure diseases. We search for a cure, and better treatments and provide research grants and education to healthcare professionals.
Web Site www.AAMDS.org
Email help@aamds.org
Success Story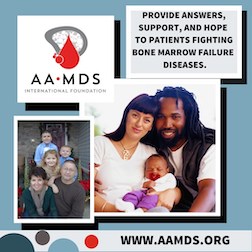 Story of Hope from Aplastic Anemia and PNH survivor, Jocelyn Boyer.
Jocelyn was thriving her senior year of college, when she received her initial diagnosis. She was attending classes, working, and volunteering until extreme fatigue set in. She heard the word, "anemia," from her doctor who referred her to an oncologist. Her bone marrow biopsy resulted in frightening terms like "leukemia" and "aplastic anemia," and she was immediately admitted for blood transfusions.
A few weeks later she began immunosuppressive therapy that she endured for 7 months. Despite her treatment, Jocelyn completed her final semester through online learning and graduated on time!
In 2014, Jocelyn received the unfortunate news that aplastic anemia had returned. As she repeated the immunosuppressive therapy, she was diagnosed with Paroxysmal Nocturnal Hemoglobinuria (PNH). She started a new course of treatment two months later. While in treatment for PNH, Jocelyn was delighted to learn she was pregnant. She delivered a healthy girl in 2016!
Jocelyn is sharing her story with patients and families to bring encouragement and hope. "You can still have an enjoyable and productive life. She is thankful for her team of oncology nurseswho encouraged her through each phase of diagnosis and treatment. They even gave her a baby shower!
Jocelyn also reminds patients to keep a bright mindset. Don't take the days for granted, and rely on your personal support and your medical support. "You have to believe that it's going to be okay! Keep going, share your story, and know that you aren't alone!"