About
Skin cancer, the world's most common cancer, is occurring at epidemic levels. It is also preventable, and usually curable when detected early. Help us save lives through our public education campaigns, community programs, and research initiatives.
Web Site www.skincancer.org
Email info@skincancer.org
Success Story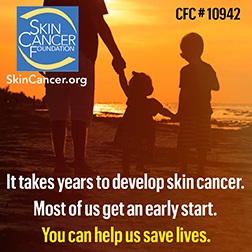 Over the past three decades, more people have had skin cancer than all other cancers combined. Skin cancer is a largely preventable disease and your support strengthens our ability to SAVE LIVES by enabling us to continue these LIFESAVING public education programs:
SUN SMART U: The Skin Cancer Foundation's youth education program PREVENTS skin cancer by teaching SUN PROTECTION IN MIDDLE AND HIGH SCHOOLS. Its lessons have reached over 500,000 students since 2012.
SKINCANCER.ORG: With more than 10 MILLION VISITS A YEAR, The Skin Cancer Foundation's website provides 600 PAGES of medically reviewed skin cancer information to people around the world.
RESEARCH GRANTS: The Skin Cancer Foundation has awarded over $1.25 million to fund more than 150 projects that have fostered CLINICAL BREAKTHROUGHS in skin cancer.
FREE SKIN CANCER SCREENINGS: To date, The Road to Healthy Skin Tour has provided FREE SCREENINGS to MORE THAN 20,000 PEOPLE nationwide through its Road to Healthy Skin Tour. Approximately 8,500 suspected cancers and precancers have been detected, including 350 suspected melanomas.
HISPANIC AMERICAN INITIATIVE: In 2013, The Skin Cancer Foundation launched CancerdePiel.org, a SPANISH-LANGUAGE WEBSITE with 54 pages of medically reviewed content. The website emphasizes the importance of skin cancer prevention for EVERYONE regardless of ethnicity or skin tone.