About
NFCR is committed to research for a cure - cures for all types of cancer. It's up to all of us to make sure scientists have everything they need to succeed. Help us make 2022 a year where great progress is made in the fight against cancer!
Web Site www.NFCR.org
Email info@nfcr.org
Success Story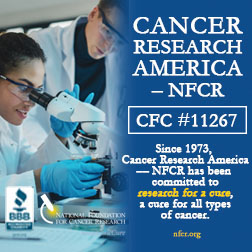 Lucy, a college professor and mother of 2, was diagnosed with Stage IV metastatic breast cancer at the age of 42. There is no cure for cancer at this late stage, explained Lucy. The cancer has spread to my bones and the lining of my lungs. An estimated 90% of all cancer patients die from metastasis - the spread of cancer like Lucy's - yet less than 1% of all research is focused on it. When asked why this is, Cancer Research America - NFCR Project Director Dr. Danny Welch explains, It's hard. It doesn't come with immediate gratification. In fact, there are only a handful of people masochistic enough to do it. But fortunately, our scientists, including Dr. Welch, are willing to go where other researchers don't. Because of their hard work and our funding, Dr. Welch and his team have discovered six genes that stop the spread of cancer. They are working around the clock to help turn these discoveries into life-saving treatments for cancer patients.

Unfortunately we lost Lucy since her diagnosis. Her final message to NFCR was to continue the fight and to use her life as an inspiration to others to get involved and change the statistics. It's people like Lucy that keep our scientists going. We all know someone who has lost their life to cancer, and the cure cannot come quickly enough, ask Lucy's children. When you support research at Cancer Research America - NFCR, you are giving life back to our country and hope to those battling cancer. Every dollar makes a difference and helps us get closer and closer to finding a cure for the people we love.