About
Supports physical & psychological rehabilitation programs; enhances mobility for veterans with amputations or spinal cord injuries; benefits aging veterans; aids & shelters homeless veterans; and addresses the needs of veterans returning from combat.


Real Life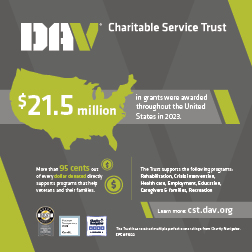 The DAV Charitable Service Trust supports programs and initiatives that improve the quality of life for veterans.
All too often, injured veterans feel like their injuries define them. Once beloved activities such as kayaking, cycling, climbing and paddling seem a thing of the past. Generally, what they want more than anything is some semblance of normalcy.
To ensure that injured veterans know that they are far more than their disability, the DAV Charitable Service Trust funds opportunities like those offered through Adaptive Adventures Military Operations (AAMO) which embraces a healthy lifestyle and improves overall physical condition and psychological well-being for wounded veterans through sports and fitness.
With programs structured to enhance overall fitness and build skills in its core sports, AAMO offers veterans opportunities that encourage participation in programs that serve a broad scope of injuries, including amputation, spinal cord injury, visual impairment, traumatic brain injury and posttraumatic stress disorder.
The DAV Charitable Service Trust seeks to partner with outstanding programs like AAMO because establishing such opportunities for veterans takes time and money. Annually, AAMO serves more than 850 injured veterans through programs and community partnerships, working with veterans from more than 40 states.
Veterans like Dennis Gordon, who lost both legs above the knee and an arm below the elbow, after a landmine explosion, understands the importance of staying active after an injury.
Funds from the DAV Charitable Service Trust help veterans like Gordon realize their potential beyond injury.