About
We serve underserved children (ages 6-17), providing sports/fitness activities, academic support, learning enrichment, community service, outdoor adventures and leadership training.
Web Site www.rocksf.org
Email info@rocksf.org
Success Story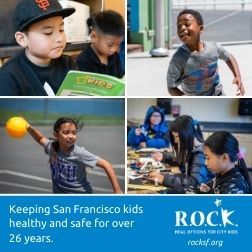 Joi Fisher was raised in the Brick Homes in San Francisco's Visitacion Valley, a notoriously unsafe and violent neighborhood. Many of her family members were in and out of jail throughout her childhood, and she witnessed gang violence at a young age. Trying to stay out of trouble, Joi joined R.O.C.K. as a 5 year old, and over time considered the organization her second family. R.O.C.K. gave her a foundation when she was young—she was able to make friends and engage with other students in a fun, safe place, and she stayed involved with the program through middle school and high school. In fact, while in high school, her very first job was working for R.O.C.K.'s summer program.
Joi graduated from Sonoma State University with a degree in Criminal Justice and American Multi-Cultural Studies. She plans to continue her education to study public policy so that she can empower and represent impoverished people who are the product of a broken criminal justice system. Today, Joi volunteers with R.O.C.K. and is motivated to continue her focus on education and helping support the community that raised her.