About
Leader in public media providing news, information and entertainment to the NW (TV, Radio, opb.org), highlighting the people, places and issues of the region.
Web Site www.opb.org
Email membercenter@opb.org
Success Story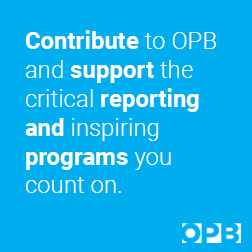 For over 30 years, "Oregon Field Guide" has been OPB's weekly TV news magazine exploring the ecological issues, natural wonders and outdoor recreation of the Northwest. This beloved show is just one of the many programs on OPB made possible by member support.
Support like yours also ensures that TV and radio programs like "Antiques Roadshow," Daniel Tiger's Neighborhood," "Masterpiece," "PBS Newshour" and "Morning Edition" are available, for free, to everyone in our community.
Members provide the majority of OPB's funding and fuel the trusted reporting, in-depth analysis and independent journalism you count on from OPB TV, OPB radio and opb.org. As a public media organization whose mission is to serve our region with essential news and information, OPB keeps you up to date on important events and issues like the coronavirus pandemic, elections, social justice, the economy, our educational system and so much more.
Contributions from the community support "OPB Kids," an entire TV channel devoted to the most trusted and educational children's programs and resources anywhere.
With your contribution of $60 or more, you can sign up for OPB Passport, which gives you exclusive streaming access to your favorite programs, often before they air on TV or for an extended time. With OPB Passport you can binge-watch all your favorite programs anytime and on any screen.
Access to information is powerful. Community support is powerful. Your contribution today will help strengthen everything OPB will provide to everyone in our region in the months ahead.
Thank you for your support of OPB and other organizations in our community!