About
We increase adoptions, spay/neuter and pet retention to end pet homelessness in Washington. We have helped over 7,000 dogs and cats find loving homes!


Real Life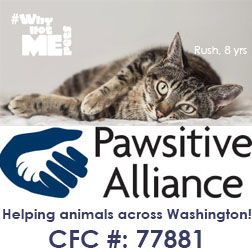 In 2012, we launched the Statewide Shelter Open House event. Each year, on this day, we encourage people to visit their local shelters and see the great work the people there are doing. The 2018 Annual Statewide Shelter Open House held October 6th had 34 participating shelters located across the State and resulted in 441 adoptions.
In addition to large scale adoption and awareness events hosted several times a year, we have a unique program that helps harder to place animals find their forever homes. In April 2019, our #WhynotMEpets program saw its 200th adoption of an animal that had a barrier to adoption such as age, breed, behavior or disability. For animals like Ziggy, a former Irish racing Greyhound, the #WhynotMEpets program provides the exposure to help find loving homes. Ziggy was finally adopted in May 2019 after being in a foster home since October of 2018. His shyness had prevented him from finding a new home, but now he is thriving and loving life with his new pet parents.
Pawsitive Alliance knows that, while love of our pets transcends socioeconomic boundaries, unfortunately, access to affordable services for pets does not. Across many areas of Washington state, low income pet owners and caretakers do not have access to affordable and convenient spay/neuter services. We are currently working in both Grant and Adams Counties, in rural central Washington, to help provide services. As of August, Pawsitive Alliance had already spay/neutered over 200 animals in just 2019 alone.