About
First stop for suspected child abuse victims. Free investigative and therapeutic services to reduce the trauma for children during the investigation of child abuse cases.
Web Site www.centerforchildprotection.org
Success Story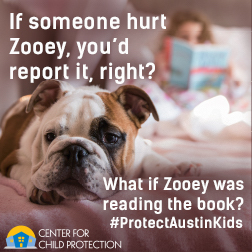 Being Strong for Jason: A Child's Story
Children are innocent, vulnerable and dependent, yet they are remarkably resilient in the face of traumatic events. Six-year-old Jason* was referred to the Center for Child Protection after telling his mother, Helen, that a family friend had been touching him in his private places. When Jason told what happened during his interview at the Center, Helen was overwhelmed with feelings of anger, guilt and shame. Jason needed his mother more than ever, but Helen was in no condition to support her son - she needed help, too. Clinical staff were able to immediately intervene to help Helen through the devastating betrayal she felt and overwhelming guilt about the situation happening at all. They addressed her feelings, walked her through the legal steps to protect Jason, and helped her cope by organizing the ongoing assistance she and her son would need throughout this unexpected ordeal. A continuum of support made the difference for Helen, so she could be a strong protector for her son.
*Names and other identifying circumstances have been changed to protect the privacy of children and families.