About
We are devoted to the humanitarian needs of the underprivileged individuals and families living in high poverty & crime rate neighborhoods. We provide crisis intervention, street outreach, food & personal care deliveries.
Web Site www.basementoutreach.com
Email jwbasement@aol.com
Success Story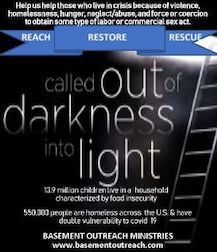 Community Foundation of the Mahoning Valley - Pastor Julia Wike is a dedicated Pastor & Director of the Basement Outreach Ministries who serves the community through selfless acts of kindness, giving of herself without accepting a salary and works tirelessly to offer basic humanitarian aid to individuals and families in our communities. Since the COVID-19 pandemic, Pastor Julia has worked hours from morning to night ordering food, obtaining donated food, unloading trucks, stocking shelves, buying & bagging groceries, assuring funds are available, and creating transportation routes by zip code each week for families. The Family Meal program also provides home cooked meals prepared by a chef with the grocery box. Many people in need of food do not have access to transportation; therefore, the Basement is one of the few organizations that delivers, making stops at homes throughout the valley. In June, 884 men, women, and children were given groceries, hot meals, and personal care products. There is more that goes on outside of the daily activities of Pastor Julia's organization. When a text came from a woman raising grandchildren on a limited budget & prevented by health from going to the store Pastor Julia went and purchased diapers for them. When she received a call from a mom whose shipment of Ensure was delayed for her child on G-tube feedings, Pastor Julia ran to Sam's Club and filled the gap for that family and then stops at gas stations at night after the Basement to reach out to those in need. Pastor Julia is on the frontlines committed to demonstrating the love of God and there is truly no limit to her service to others.