About
Success Story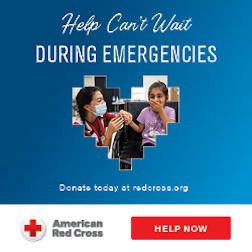 In 2020, Melissa found herself displaced from her third-floor West Philadelphia apartment after a fire. Even though the flames were extinguished quickly, the residents had no electricity or heat and their homes were filled with smoke.
Thankfully, Melissa had renter's insurance, which allowed her and cat, Nelita, to have a safe place to stay. But they still had nothing but the clothes (and fur) on their backs and were not sure where to turn. That's when Philadelphia Fire Department responders pointed her toward the American Red Cross of Southeastern Pennsylvania.
"I didn't even know that [the Red Cross] was a resource available to me," she said.
Melissa recalls that "within minutes" of contacting the Red Cross, a caseworker called her back.
"They asked me what I needed and went through a very easy and efficient process. I didn't feel overwhelmed."
After verifying her information, Red Cross Disaster Action Team (DAT) members were able to get Melissa funds for food, clothing, toiletries, and other essentials.
"I was able to get everything I needed in less than 24 hours and was safely settled by the end of the night, largely due to their kindness and efficiency," she said.
The Red Cross also offered Melissa emotional support and checked back with her regularly.
"My experience with the Red Cross has been amazing," she shared. "It's not an experience I ever want to repeat, but for something that was difficult to go through, I honestly feel like [the Red Cross] made it super easy and super convenient by guiding me through the process. I felt very supported."