About
Provides free services for disabled children worldwide (including kids of US Military): medical equipment and services, food, clothing, family respite care, adaptive learning activities, etc. Also provides COVID-19 Impact aid.
Web Site www.achildthrives.org
Email helpsomechild@gmail.com
Success Story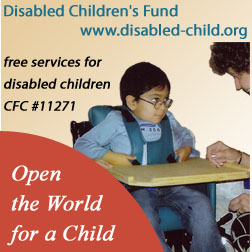 PROJECT VIJAY

When Vijay was born, he was not expected to live. His parents gave him loving care, but professional medical services were not affordable. He was bedridden until age 7, but then, through sheer determination, he began steadily improving, while continuing to have both physical and developmental challenges. In 2018, Disabled Children's Fund provided Vijay with an all-terrain pediatric wheelchair to enhance his ability to get around in the rural area where he lives.

We named the initiative "Project Vijay" after him due to his winning personality and positive spirit. In many parts of the world, having a disabled child is something to be ashamed of, and the child is often confined to the house and hidden from the rest of the community. Even loving families have few resources available to help their dear children live a better, richer life.

Project Vijay began with needs assessments of disabled children and their families in some urban and rural areas of southern India. These children are challenged by a range of physical and developmental disabilities. In some cases, they urgently need properly made and fitted wheelchairs, a scarce item in India. When fitted with a wheelchair, these children have mobility with dignity and a feeling of independence. We also support a trained nurse who provides special needs training and services.

The situation is even more dire now due to COVID-19. Many of these kids' parents are day laborers and the economic shutdown means no wages. So in addition to clinical services we are providing food to ensure survival. Please stand with us. It only takes a few minutes and a very few dollars to change a life.