About
Open the world for a child! We bring medical treatment, mobility devices,physical therapy programs, food & clothing to disabled children in need worldwide including children of US military. We believe every child deserves a chance to thrive.
Web Site www.achildthrives.org
Email helpsomechild@gmail.com
Success Story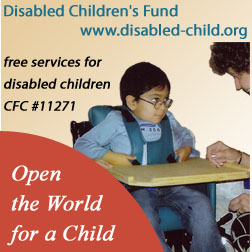 Much of our work is overseas with in-country partners. A vital example is in Zhtyomyr, Ukraine. Before Russia's unprovoked invasion, over 260,000 people lived there. A facility in that city provides treatment/services to over 600 disabled children and their families. Zhytomyr is 2 hours west of Kyiv; 10 hours away from the safety of the Polish border. When bombs and missiles started falling, the 46 staff members were offered evacuation. Their response: "We're staying with the children, no matter what". After a year of war, 42 of those angels are still there, regularly shuttling to and from Poland to obtain desperately needed medicine/supplies and to check on/assist the special needs families who have relocated to Poland, ensuring continued services for them as they adjust to new cultures and languages.
When traveling to and from Poland, these folks must brave the possibility of attack by artillery, missiles, or even the terrifying sounds of jet warplanes, swooping in to drop bombs. In Zhytomyr, there are frequent periods of no electricity, and no natural gas for heating and cooking, as the Russians target Ukraine's utilities infrastructure. In addition to funding for food, medicine, and medical supplies, we have provided children's warm winter clothing to help them endure the brutal winter. While the Ukranians have proven very adept at quickly repairing the damage from these attacks, the resulting hardships are inescapable and undeniable.
Thanks to wonderful supporters like you, we were able to say, "Not on our watch!". We will also stick with these precious children--no matter what! Will you stand with us, for hope and against despair? Thank you so very much!