About
Cancer, Autism, Diabetes, Alzheimer's, Parkinson's. Health is life's most precious ingredient. Help support wellness in America with one gift to charities providing research, screening, and diagnosis, treatment and prevention, and patient comfort.
Web Site www.hmr.org
Email info@hmr.org
Success Story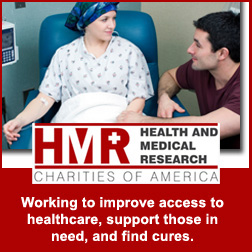 GO AHEAD: MAKE A MIRACLE

Whisper encouragement in a sick child's ear
Be the angel wings flying to the hospital in time
Discover the cure for Diabetes, or Alzheimer's, or AIDS
You have power to make a miracle
Just by picking our number
How Will You Help?
Will yours be the dollar that buys that one test tube that holds the secret of curing Alzheimer's? Will you pay for the screening at the community clinic that warns a woman in time to save her life? Will you print the report that explains a new treatment to a physician? Will you fund that web site that lets victims and their families support one another? Will you help a volunteer pilot fly a sick child to specialized treatment far away?
There are many, many choices, and all of them are good. Help them all by choosing Health and Medical Research Charities of America.