About
We rescue abandoned domestic rabbits; help humane societies & municipal shelters; educate the public on house rabbit care; provide low-cost spay/neuter, shelter & feed; and provide veterinary care to abandoned and injured rabbits.
Web Site www.rabbit.org
Email rabbit-center@rabbit.org
Success Story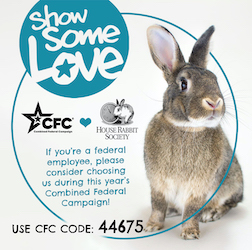 2019 was a very special year for House Rabbit Society: because of you, we built a rabbit hospital at House Rabbit Society headquarters and hired a veterinarian and registered veterinary technician, which means we can help more rabbits! So many of the rabbits who come to House Rabbit Society were at risk of euthanasia at a shelter because they arrived sick or injured and we are their only hope for a second chance. Now, with our rabbit hospital, we can provide more rabbits excellent veterinary care, faster than ever before.
Over 150 rabbits were adopted in 2019 at HRS headquarters! HRS foster homes opened their home to a foster bunny over 150 times in 2019. Our Emergency Rescue Grant Program aided shelters and rescues with 9 rabbit emergencies, providing financial and technical assistance to rescue over 600 rabbits across the U.S.
In the first months of surgeries in our new rabbit hospital, in addition to spays, neuters, mass removals, and an eye removal for HRS rabbits, we have performed free and low-cost surgeries for a local animal shelter, 2 rabbit rescue groups, and a nearby neighbor who had already previously had multiple accidental litters, helping her end the cycle. In our rabbit hospital, our staff veterinarian trained 3 veterinarians in rabbit surgeries, giving them new skills to help even more rabbits.
Each time we provide life-saving care to a sick rabbit, we know House Rabbit Society's supporters, and especially our Bunny Brigade monthly giving club members, are there by our side. We couldn't do this work without you. Please give generously to support House Rabbit Society's lifesaving rescue and education work!