About
From dogs & cats physically abused, rabbits & primates used in research, pigs & cows suffering on factory farms, bears & wolves hunted and killed for sport — our legal work protects the lives and advances the interests of all animals.
Web Site www.aldf.org
Email donations@aldf.org
Success Story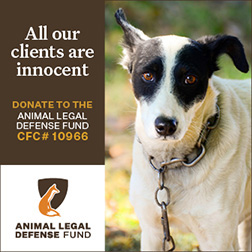 When we found Gabriel, a pig, he could barely breathe. He was lying in his own waste, had a fever and struggled to stand. His water bowl was empty, and his food was rotting. He was one of the animals suffering at several illegal backyard slaughter operations in Fort Myers, FL. An undercover investigation of these slaughter operations had revealed extreme animal cruelty — including animals being skinned alive, conscious animals being dragged to slaughter by their heads, tails, and ears, and animals being starved.
We filed — and won — a lawsuit to shut down these illegal operations and rescued 114 animals, including Gabriel, from a gruesome fate. Working with farm sanctuaries and local law enforcement, we coordinated the rescue of 46 ducks, 55 chickens, 3 sheep, 5 goats, 2 pigs, a goose, and a pony. These animals are now in sanctuaries receiving the love and care that they deserve.
The Animal Legal Defense Fund has been leading the fight against animal cruelty and injustice for over 40 years — fighting to protect the lives and advance the interests of animals through the legal system.
We can't wish away animal cruelty; it's going to take all of us working together to ensure that animals receive the legal protections they need. Stand with us today to help create more happy endings for suffering animals across the country. Thanks in advance for joining the fight against animal cruelty and being a hero for animals.