About
Canine Companions is leading the service dog industry so our clients and their dogs can live with greater independence. We provide service dogs to adults, children and veterans with disabilities and facility dogs to professionals, at no cost to recipients.
Web Site www.canine.org
Email info@canine.org
Success Story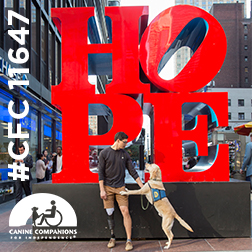 Independent and Outgoing After All


Tammy Middleton and Terzian, her Canine Companions service dog, teamed up so that Tammy could keep her independence after all.

At age 16 while on a double date, a car accident left Tammy paralyzed from the waist down. Having always been an independent person, Tammy found herself instantly dep-endent upon others. She also found herself self-conscious about her wheelchair.

Tammy wanted so badly to be independent, but she knew simple things most people take for granted would make this challenging, such as picking something up off the ground, or going grocery shopping. So Tammy applied for a service dog from Canine Companions for Independence.

Tammy eventually recieved her wish for a Canine Companions service dog named Terzian. Terzian began to help her physically by carrying her purse, pulling her wheelchair, and helping take in the garbage. Moreover, he has been there as her number one fan: he supported her on her first day at work, he offers her a sense of security, and he's always there whenever she needs a hug.

Tammy is thankful to live on her own and work full-time as a lawyer. Now, with Terzian, she is as independent and outgoing as before her accident.