About
We provide comprehensive primary, dental & behavioral health care, to 38,000 insured and uninsured individuals, improving our community by providing quality, cost-effective healthcare.
Web Site www.marinclinics.org
Email gifts@marinclinic.org
Success Story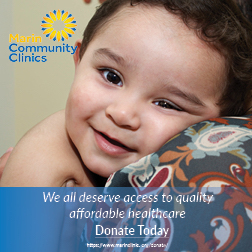 Angela and Eddy:

Angela was a fulltime student at Dominican University nearly eight years ago when her nephew Eddy, then 4, came to live with her. Because of their financial situation, Eddy qualified for Medi-Cal and was referred to Marin Community Clinics for his ongoing health care for mild asthma and allergies.

Eddy is a typical active boy who loves sports and dogs, but in a pre-season physical to play baseball, his physician Dr. Andrea Gray noticed that Eddy's heart rate was irregular. She referred him immediately to pediatric cardiologist Dr. Howard Rosenfeld in the Larkspur office of Children's Hospital in Oakland. The specialist saw him the same day and recommended surgery. While the surgery did not fully resolve the problem, regular medications have been successful in bringing Eddy's heart arrhythmia under control.

According to Dr. Gray, early detection and treatment were the keys to preventing serious health consequences for Eddy. "Marin Community Clinics has been a godsend," said Angela, an occupational therapist working with children in special education. "Dr. Gray really cares about Eddy and calls to see how he's doing even when we are not scheduled for a visit." Such teamwork - between aunt "Angie", Dr. Gray, Dr. Rosenfeld, and the Clinics' support staff - has allowed Eddy to enjoy school and volunteer activities and, most especially, baseball once again.