About
We partner with individuals, veterans and families to build and improve homes, create financial stability, independence and brighter futures. We help revitalize neighborhoods, stabilize communities after emergencies and help older homeowners age in place.
Web Site www.habitat.org
Email publicinfo@habitat.org
Success Story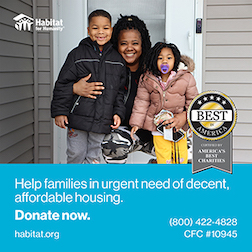 Charae is the proud mother of four children, Brylie, 4, Chance, 5, Bryant, 6 and Char, 11. When she describes her youngest daughter, Brylie, she doesn't refer to her as having a disability. "We call them children with special powers," she says proudly. Brylie lives with microcephaly, a rare condition that causes infants to be born with unusually small heads due to abnormal brain development.
This family's challenges go beyond Brylie's medical condition. The family lived in constant fear in their old neighborhood. Charae says, "I didn't let the kids go out because I was afraid that something was going to happen, and I wouldn't be there in time."
Last year, Charae and her children moved into a safe home she helped build with Habitat for Humanity. She says the process of becoming a Habitat homeowner has been one of the best experiences of her life. She had the opportunity to work on her own home, and it gave her a newfound sense of ownership. "I got to paint and caulk. I got to put in the baseboards. They taught me how to saw and drill," she says. "I can honestly say I know my house inside and out."
This dedicated mother says that her Habitat home has given her something truly priceless: peace of mind. "There's a big weight off my shoulders. My children have a home they can grow up in. That's stability for me."
Her children feel safe and secure now. Charae says, "They are able to play outside now. They are starting to make friends who live in the neighborhood, and it's a wonderful feeling to know they can be friends for a long time, because we aren't going anywhere."
Bryant smiles when he talks about his new home. He says, "I love this house."