About
6.5 million Americans suffer from Alzheimer's and this number will skyrocket without new treatment and research for a cure. Help prevent Alzheimer's disease, find a cure, and ensure peak mental performance and optimum brain function throughout our lives.
Web Site www.AlzheimersPrevention.org
Success Story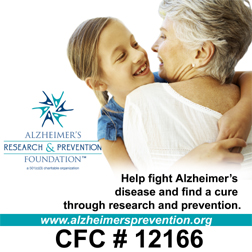 When Julie and Tom were married, they made a vow to remain by each other's side, through sickness and in health. Now 45 years later, Tom struggles to keep his promise to his wife, who no longer knows his name, or how to dress herself. Sadly, Julie is one of 4.5 million Americans over the age of 65 who suffer from Alzheimer's disease, a progressive brain disease that slowly destroys memory and thinking skills and can make it difficult or impossible to carry out even the simplest tasks. However, there is a reason to believe that neither memory loss nor Alzheimer's disease are inevitable.
For over 20 years, ARPF has been actively involved in the cutting edge prevention of Alzheimer's disease through research, education, and advocacy. As a leading voice on the holistic medical approach to the prevention of Alzheimer's, ARPF is committed to empowering individuals & their families by sharing the latest information regarding preventative measures and holistic medicine.
ARPF's 4 Pillars of Prevention necessary to build healthy brains are backed by research and include : 1) Proper diet, vitamins and supplements, 2) Stress management, 3) Physical & cognitive exercise and 4) Spiritual Fitness. Current estimates predict that Alzheimer's disease will affect the lives of nearly 15 million over the next 45 years. If we can slow the development or onset of its symptoms by 5 years, we can decrease the number of cases by 50 percent. If we slow the development of Alzheimer's by 10 years, we can virtually eliminate it.
Won't you help us at ARPF in our mission to prevent the onset of Alzheimer's?