About
Inspire youth to become future scientists and innovators by providing students with hands-on Science, Technology, Engineering and Math (STEM) education experiences. Help us ignite a student's potential and spark a passion for a lifetime of learning.
Web Site www.challenger.org
Email info@challenger.org
Success Story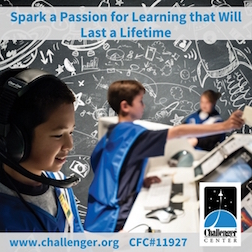 Carla describes her visit to a Challenger Learning Center in 6th grade as a life-changing experience that "definitely influenced the direction" of her career. Carla participated in a simulated space mission with her classmates. The mission gave Carla insight into a range of science, technology, and engineering roles and the opportunity to practice teamwork, communication, and creative problem solving - skills that are critical for today's careers. Carla says, "I enjoyed the atmosphere of being part of a team and doing something momentous. I enjoyed the thrill of troubleshooting to fix problems."
Using hands-on activities to analyze data and conduct experiments, students apply classroom lessons to real world scenarios. Carla admits that she saw herself differently after participating in a mission. "I felt like I mattered, that I could do that kind of job (science and engineering, though I didn't have those words for it then), and I knew I would enjoy it.

Today, Carla is a Mechanical Engineer at Lockheed Martin Information Systems & Global Solutions.

Today's children must become the most technologically advanced, scientifically literate adults the world has ever known. The demand for employees educated and prepared to fill STEM roles already exceeds the supply - and the need is projected to grow dramatically in the coming decades. For over 34 years, Challenger Center has been a leader in providing inspirational STEM education experiences for students, serving more than 250,000 students like Carla each year.