About
Brutally slaughtered for their horns & losing habitat to human activity, rhinos are in danger of extinction. We work to ensure the survival of rhinos through strategic partnerships, targeted protection, & scientifically sound anti-poaching interventions.
Web Site www.rhinos.org
Email info@rhinos.org
Success Story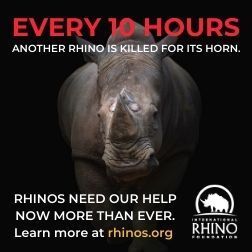 Just after dawn on February 16th, 2009, Sinikwe, a black rhino cow, and her 16-month-old calf were ambushed by poachers in the thick brush. Sinikwe escaped with gunshot wounds. Her calf was shot and killed - its horn hacked off with an ax minutes after its death. For weeks, Sinikwe regularly returned to her calf's carcass. The poachers did too, staking out the dead calf in the hopes of capturing Sinikwe's horn as well.
But our brave rhino monitors staked out the site too, and were able to protect Sinikwe from the poachers. Several months later, they successfully captured and moved Sinikwe, her brother, and other members of their extended family out of the high-risk area where they lived, and into a much safer conservancy.
Spurred by the demand for rhino horn for use in traditional Asian medicine, rhino poaching across Africa has reached a 15-year high. Up to 25% of Zimbabwe's nearly 800 rhinos were brutally killed by poachers over the past 3 years.
In 2009, IRF's heroic team in Zimbabwe moved 53 critically endangered black rhinos out of areas where they were particularly vulnerable to poachers. These emergency operations dramatically reduced the number of rhinos poached per month.
Our goal now is to further reduce poaching losses and keep applying pressure for Zimbabwe to improve anti-poaching and law enforcement efforts. If we can successfully protect Zimbabwe's rhinos during the current crisis and pressure the government to crack down, then this species can still have a bright future indeed.