About
Transforming the lives of dogs, cats and other animals by providing life-saving programs that find animals homes, serve animals and people in times of crisis, provides spay and neuter services, and engages the community to be a part of the solution.
Web Site www.austinhumanesociety.org
Success Story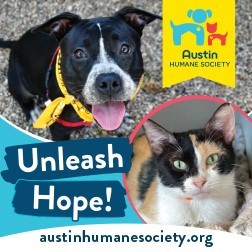 Each year, the Austin Humane Society provides safe shelter, healthy meals, warm beds, quality medical care, and endless love for more than 13,000 animals – animals like Peanut.

This two-year-old Chihuahua came to us after being hit by a car. When he arrived, Peanut needed immediate care to treat his wounds, and was suffering from painful and complicated fractures to both of his rear legs. It was determined that he would need emergency surgery to amputate one of his legs and a lengthy orthopedic surgery to repair his other hind leg, along with weeks of antibiotics and other medications to help him heal. Donations from animal lovers like you meant he got everything he needed, including the time it took to recover.
Peanut spent months in a loving foster home adjusting to life on three legs while healing his body and spirit. Once he was feeling better and ready for adoption, Peanut's foster, AHS staff member Arden, realized he had become part of the family and decided to officially adopt him! Peanut now lives with his older (and much larger) doggie brother and loves to run and play. Today Peanut is thriving and happy.
Your support of AHS through the CFC is helping us give second chances to animals that need it most, like Peanut. Thank you for unleashing hope for Austin's most vulnerable pets in need!