About
MCEC addresses the needs of military-connected students with programs and resources like SchoolQuest, Purple Star Schools, Student 2 Student, and Month of the Military Child (MOMC). We serve the children of those who serve us all.
Web Site www.militarychild.org
Email info@militarychild.org
Success Story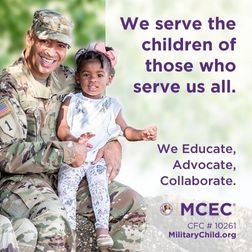 By Alison Claire, Senior, Belton High School, Belton, TX - Our car pulled up in the parking lot of the "deployment launch." I sat and wished. My dad, I stared at my dad. He'd missed so much during all those deployments, so much time spent away from home - where he wanted to be. All those almost-birthdays since I was eight, and the gap-toothed first days of school he missed. I tried not to concentrate on the statistics because they just made me sad. My dad made a spreadsheet he called "Deployment Math," a list of everything he had missed including eight consecutive anniversaries,"most of my children's formative years," and 57.5% of 9.5 years at home. I felt the weight my mother and brother wore, but I carried it inside. I figured I was cut from the same calm, cool, and collected cloth as my dad. I figured that he was feeling the same way I was while my mom and brother wept. He had more to cry about than us, but he didn't cry. I found I'm not an impulsive weeper. I fully digest my feelings. And later in the dark, when I'm alone in my bed and brain, I think about all of it. And sometimes I cry private tears.