About
We find missing children and support families of missing children - We focus on prevention, specifically social media safety and public policies that keep children safe.
Web Site www.pollyklaas.org
Email service@pollyklaas.org
Success Story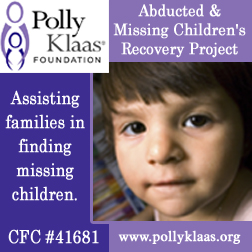 "Our heartfelt gratitude for the countless things you do each day to reunite families. When our days were the darkest, you were there, calling with love and compassion. Our story has a happy ending, thanks to you and your volunteers. Love to each of you!" Parent of a safely returned abducted child
Let me tell you how Baby Claire was found.
She was kidnapped at the tender age of 3 months by her father Robert. Her mother Joan filed a police report & contacted the Polly Klaas Foundation. Joan talked with our caseworker & signed a consent form. Our caseworker created Baby Claire's missing child poster, posted it on our website & faxed it around the country.
David, a family friend, saw Robert's photo on Claire's missing child poster. He called PKF. He had received a phone message from Robert with local contact info.
Our caseworker immediately faxed David's info to the detective in charge of Baby Claire's case & followed up by phone. The detective contacted the Police Department in the town & state where David & Robert were located. They would interview David, pick up Robert & hopefully recover Baby Claire.
2 hours after talking with our caseworker, David was paged by Robert. David called our caseworker & was told to call the detective immediately. PKF faxed the info to the detective.
30 minutes later our caseworker called David. Local police detectives were there.
Within 5 hours of David's first call to our caseworker Baby Claire was safe, her abducting father was in custody.
Baby Claire was returned to her grateful mother.
Keep the hope alive. We've been helping parents find their children since 1993.