About
Help PREVENT Racing Greyhounds from starvation, abandonment, abuse, or slaughter when tracks are closing. 15,000 Racing Greyhounds, mama's and babies are at risk. SAVE them by providing medical care, food, transportation and adopt homes!


Real Life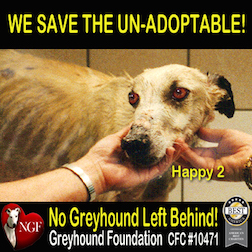 Help Save the 15,000 Racing Greyhounds at RISK!
This year Florida Voters will be asked to
choose Life or Death
for over
15,000
racing greyhounds, greyhound mamas and their babies on the farms. If passed,
Amendment 13
asks Voters to
BAN gambling on dog races
which will STOP GREYHOUND RACING,
create a tsunami of homeless and dead greyhounds,
and destroy the Greyhound Industry.
Whether you live in Florida or another state, YOU CAN HELP by SPREADING THE WORD about their plight through Social Media and friends, money for their medical care, Families for Adoptions, Supporters to Symbolically adopt them, Foster homes, and volunteers to help in your communities. Saving their lives is our TOP PRIORITY. Please go to our website, sign up NOW and get the full story.
We named our poster Greyhound
HOPE
. She was one of the "unlucky" greyhounds that had no place to go when she retired.
I made her a promise
that someday I would find a way to give every retired racing greyhound a home. And for 23 years, and 10,000 greyhounds later,
YOU have been helping me keep that promise.
We became the VOICE OF THE GREYHOUNDS. NOW they URGENTLY are calling to animal friends everywhere for YOUR help.
Please join us and stop this potential tsunami of homeless and dead greyhounds today. Preserve the Legacy of the Greyhound Breed. Thank you for choosing the Greyhound Foundation Charity this year, #10471.