About
GREYHOUND RACING ENDED IN FLORIDA! Animal Abuse has not. SPECIAL NEEDS Greyhounds and Homeless animals in ANIMAL SHELTERS want to live!. Every 16 SECONDS AN ANIMAL IS EUTHANIZED in a Shelter! URGENT funds are needed for care, medical, to save lives!
Web Site www.4greyhounds.org
Email topdog@4greyhounds.org
Success Story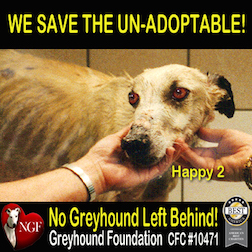 FLORIDA BANS GREYHOUND RACING! 7000 retiring Greyhounds NEED Homes!


The video above is an NGF Emergency Rescue of over 300 racing greyhounds, when a track closed and a desperate kennel operator called for help.
December 2020, the deadline for closing all Florida Race Tracks, is the most CRITICAL CHALLENGE the GREYHOUND FOUNDATION, GH Adoption Partners, Kennel Operators and Racing Greyhounds face, nationwide. Over 7000 Greyhounds will need homes!
Beautiful Greyhounds and the Un-ADOPTABLE greyhounds are the Greyhounds we save. Especially those with broken legs, health issues, injuries, blind, seniors, brood mama's, and special needs Greyhounds like HAPPY 2, one of the lucky HARD TO ADOPT ones. found with his ears eaten by rats, starved and miserable, that YOU helped me save.
HOPE, (seen in the video) was one of the "Un-lucky" Beautiful Adoptable Greyhounds we had to leave behind. Her "THEY LIVE IN CAGES" National Greyhound AD campaign hasraised thousands of dollars from supporters like yourself that read her story
With tears streaming down my face (look at the video), and a heavy heart, I made her a promise there would be NO GREYHOUND LEFT BEHIND! when tracks closed.
Whether you live in Florida or another state, please become a Greyhound Guardian Angel and help me keep my promise, there will be NO GREYHOUND LEFT BEHIND. You will become one of the Greyhound Guardian Angels helping me keep my promise.
If you love animals, take the pledge, and JOIN ME NOW. Thank you for choosing the
Greyhound Foundation as your charity this year. Charity#10471