About
Southeastern Guide Dogs breeds, raises, and trains guide dogs, service dogs, and companion dogs for people living with significant challenges, including adults and children with visual impairments, and veterans with PTSD and other disabilities.
Web Site www.guidedogs.org
Email info@guidedogs.org
Success Story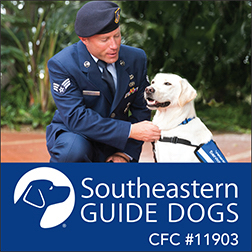 The Big Yella Fella


Bob MacPherson, a 30-year Marine who served during multiple conflicts dating back to the Vietnam era, is a recent graduate of our Service Dog Program. Here, he shares about what happened on the fifth night of a ten-day training session spent on our Palmetto campus learning how to work with his new dog.
"On the fifth night, I had a terror dream. For the past two years, they were becoming more frequent, and the panic increasingly severe. During the midst of the nightmare, I awakened with pressure on my chest. Panicking, I shot up in bed while gasping for air and trying to orient myself. I looked to my right and saw a giant dog standing next to me with an intense look on his face. The Big Yella Fella heard me yelling and intervened.
As I calmed down, with his head on my chest, I matched the rhythm of his breathing and held one of his paws. I could feel his peace flow through me like a gentle prayer. When I woke in the morning, he was in a tight ball next to me. Turning my eyes toward him, the Big Yella Fella raised his head, and suddenly, the longest tongue in all dog-world licked my entire face in one stroke. I knew it was going to be OK."
~Taken from Bob's blog post at www.quietjourney.net