About
CMM is an international charity that serves poor and neglected children who are homeless, refugees and in disaster situations. Healthcare volunteers lovingly provide wheelchairs, medical care, food and clothing to these children and their families.
Web Site www.childmed.org
Email childmedhis@gmail.com
Success Story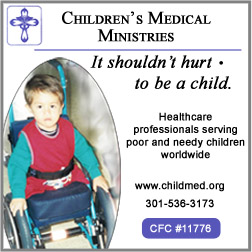 A young 12 year old girl with disabilities from birth was carried everywhere by her parents in rural Guatemala until she was seated in a wheelchair provided by gifts from generous donors, like yourself. As the young girl grew, her world became smaller and smaller because she became too heavy to carry everywhere her family went.
This new wheelchair will expand her world once again. It will also prevent future deformities.
Guatemalan schools do not allow immobile children to attend school unless they have a wheelchair, so this chair will allow her to receive an education and interact with her peers.
This young lady would not have been able to afford a wheelchair if it were not for generous donors such as yourself.