About
All critically ill children should have access to hospice and palliative care when facing a life-threatening illness. We're helping these children and their families live life to its fullest and provide comfort when there isn't a cure.
Web Site www.chionline.org
Email info@chionline.org
Success Story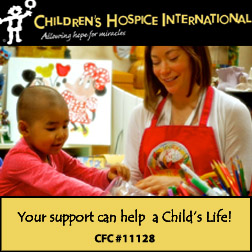 Nine year old Melinda came into our lives when her pediatrician contacted us…Melinda and her family needed help! She had been discharged from her healthcare program because her insurance reached its maximum coverage for hospice care.
Melinda suffered from a rare form of muscular dystrophy. She never crawled, never walked, but she knew that someday she would be a "Ballerina, dancing on a Rainbow"…Melinda told us "Don't be sad when I go to heaven…rather, after every storm, look for the Rainbow and know that I'm dancing on it."
Without help, her parents were taking turns staying up all night in order to turn her and hand her a suction tube to suction out the mucus so that she wouldn't choke… Both of her parents worked – her father during the day, her mother at night – between work and caring for Melinda and the rest of the family they were exhausted!
They'd promised Melinda that she would never have to go back to the hospital. Melinda wanted desperately to stay at home with her family.
CHI arranged for trained volunteers to be coordinated through her hospice, to assist Melinda overnight. It wasn't "ideal" but it was something…and her parents were able to keep their promise that she could die at home, in her mother's arms, surrounded by her loved ones and pets.
Melinda wrote a book "My Life, Melinda's Story", which can be found on CHI's website.
On behalf of Melinda, and other children and families, thank you for your support!