About
Cures for childhood brain tumors are desperately needed. We fund basic science and clinical research that will save lives and are dedicated to heightening awareness of this devastating disease while improving the quality of life for those it affects.
Web Site www.childhoodbraintumor.org
Success Story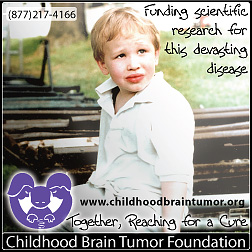 Brain tumors are the most common solid tumor of childhood; and the second most common childhood cancer. Brain tumors are the leading cause of death from childhood cancer and have the highest fatality rate. Importance of Pediatric Brain Tumor Research: Eight years ago, I was diagnosed with a non-malignant brain tumor when starting the third grade. My family and friends were eager to support me in my fight, we formed a team in support of the Childhood Brain Tumor Foundation. Medicines in early stages of development eight years ago are becoming available to patients as alternatives to side-effect-laden chemotherapies. This is amazing news and a testament to CBTF efforts to fund early stage medical research. Please support CBTF so that kids like me can beat our brain tumors with the hope of a cure on the horizon. Written by pediatric brain tumor survivor and Ambassador to CBTF.
My grandson, Ian, was 10-years-old when was diagnosed with a rare form of brain cancer -desmoplastic infantile ganglioglioma that usually strikes infants. Ian was living his life to the fullest. He played ice hockey, loved music, was funny, very social, he was good looking—and he knew it! For years following diagnosis, Ian underwent several surgeries, radiation and chemotherapies, some innovative and experimental, in an effort to cure his cancer. He lost his hair; was often very sick; and was hospitalized often. A cure was not to be found. Ian passed away many years ago. Cancer is a disease that affects the entire family and Ian's illness and death was no exception. You can help! CBTF depends upon public donations to continue its work.