About
A gift to RAINN helps to support survivors through the National Sexual Assault Hotline, ensure justice for survivors, and prevent sexual violence. RAINN is the nation's largest anti-sexual violence organization and helps about 300,000 people per year.
Web Site www.rainn.org
Email development@rainn.org
Success Story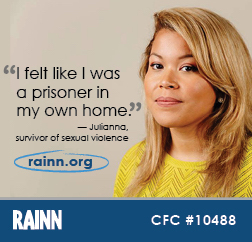 Julianna began being sexually abused by her stepfather when she was 8 years old. "Every incident he got bolder and bolder, until one day, he was bold enough to take my virginity." When Julianna was 15, she finally told her mother. "She sat me down from sun up to sun down and kept asking me over and over again, 'are you sure?'" Shortly after, Julianna's mother sent her to live with her estranged father. "She had given up on me, " Julianna remembers. "Could a mother do that?"

Ten years later, Julianna took her stepfather to court. "My mother was my only witness. She could have made up for all those years that I had lost. This was her time to stick up for me and to really fight for me. And she didn't. Me and my mother no longer have a relationship. That's why RAINN plays such a huge part in my life. Because I get to share my story and I get to empower other people. I want to pass along the hope that it took me so long to regain back."