About
Alley Cat Allies' mission is to transform and develop communities to protect and improve the lives of cats. Our three main program areas are: humane care and outreach, law and policy, and advocacy.
Web Site www.alleycat.org
Email donate@alleycat.org
Success Story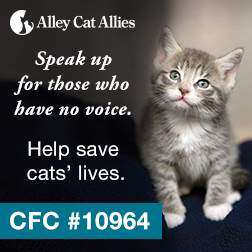 Alley Cat Allies is the global engine of change for cats. We protect and improve cats' lives through our innovative programs, and we are seen around the world as a champion for the humane treatment of all cats.
Founded in 1990, Alley Cat Allies has grown into a powerful force for good with more than 650,000 supporters. Together, we have helped and inspired individuals, communities, and organizations to save the lives of millions of cats and kittens worldwide. Alley Cat Allies has been vital in advancing policies to protect and defend cats. We pioneered the Trap-Neuter-Return (TNR) movement, which is widely considered to be the only humane and effective approach to community cats. Today, more than 650 municipalities around the nation have adopted ordinances or policies that support TNR - and that number continues to rise. Alley Cat Allies champions a simple truth: All cats deserve to live.
Every day, we roll up our sleeves and work hard to raise awareness, educate decision makers, strengthen anti-cruelty laws, and provide hands-on support to save cats. When back-to-back hurricanes devastated parts of Texas and Florida in August and September of 2017, our expert disaster response team rushed to the aid of cats and caregivers in areas hardest hit by the storms. The scope of our work extends well beyond U.S. borders. As a global organization, we partnered with groups like Animal Balance to carry out high-volume spay and neuter clinics under such programs as Trapped in Paradise, and in areas with the greatest need. Alley Cat Allies is leading the cat revolution, and it's growing stronger every day. Join us.