About
Elephants are being killed for ivory, rhinos are slaughtered for their horns, and whales are under attack due to commercial hunting, pollution, and underwater noise. Help us protect endangered species and global forests, and prevent runaway climate change.
Web Site us.eia.org
Email info@eia-global.org
Success Story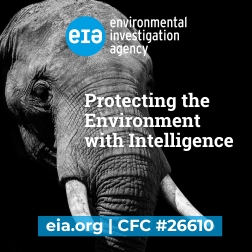 EIA is a different kind of environmental organization with a unique combination of methods: undercover investigations of criminal activity, a wide variety of scientific, economic and social primary evidence, and campaigning expertise. A thirty-year track record reveals EIA as arguably the most consistently independent, fearless, dynamic and effective NGO working on global environmental issues today.
EIA pioneered the use of investigative techniques, including undercover documentary evidence, which we use to leverage a global intelligence and advocacy network at the highest levels of government, civil society, and industry, combined with deep policy expertise, to spur changes in market demand, local, national and international laws, and enforcement.
We have worked tirelessly to investigate environmental crimes, often in collaboration with our London partner-office, to directly instigate policy changes around the world. Since our founding, we have achieved lasting successes, such as the international ban on ivory trade in 1989 and the passage of the 2008 Lacey Act amendment in the United States.
EIA's awards and honors include election to the U.N. Environment Programme's (UNEP) "Global 500 Roll of Honour," the U.S. Environmental Protection Agency's "'Best-of the-Best' Stratospheric Ozone Protection Award," and the "Montreal Protocol Partners Award" from UNEP. EIA was also featured in the academic journal Global Environmental Change, which states, "EIA was crucial for making the global issue of illegal logging a legitimate topic for US domestic policy making."