About
Supporting veterans,we offer physical/psychological rehabilitation programs; enhance mobility for veterans with amputations/spinal cord injuries; support aging veterans; aid/shelter homeless veterans;and address the needs of veterans returning from combat.


Real Life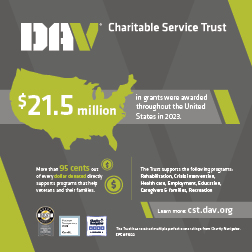 To ensure that injured veterans know they are far more than their disability, the DAV Charitable Service Trust funds opportunities like those offered through the American Humane's Pups4Patriots program.
Pups4Patriots rescues unwanted dogs in need of homes and trains them to become lifesaving service dogs for military veterans struggling with the invisible wounds of war, including post-traumatic stress disorder (PTSD) and traumatic brain injury (TBI).
Army veteran Mark Mills sustained a TBI after being injured by a Hellfire missile in Afghanistan in 2003 and another, years later in Iraq when enemy insurgents attacked a weapons depot and set off an explosion. After years of trying to manage the symptoms of those injuries and PTSD—memory loss, headaches, tremors, balance issues, anxiety and hypervigilance—Mills' therapist recommended a service dog. He found it through Pups4Patriots.
Georgi, a black lab from a Colorado shelter, turned out to be exactly what Mills needed—and in return, she got a new lease on life. Most importantly, Georgi helps him pay it forward to other veterans.
Since Pups4Patriots began in 2017, it has paired more than 100 veterans with lifesaving service dogs—which in turn has also saved as many rescue dogs from unknown fates in shelters.
The Trust seeks to partner with exceptional programs like Pups4Patriots because establishing such opportunities for veterans takes time and money. For veterans like Mills, having a service dog can be the vital component to regaining independence and enjoyment in daily life.
Funds from the Trust help veterans like Mills realize their full potential by finding the missing piece.