About
Supporting veterans,we offer physical/psychological rehabilitation programs; enhance mobility for veterans with amputations/spinal cord injuries; support aging veterans; aid/shelter homeless veterans;and address the needs of veterans returning from combat.
Web Site cst.dav.org
Email cst@dav.org
Success Story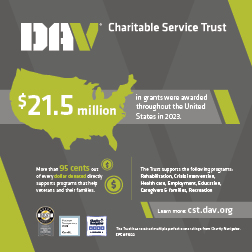 The DAV Charitable Service Trust carefully evaluates and addresses the most vital needs of wounded, ill and injured veterans and their families while empowering them to maximize their quality of life after service.
Service dogs have long been heralded as great assets for those with disabilities, which is why the Trust funds opportunities like those offered through Canines for Service Inc. The North Carolina-based organization helps provide trained service dogs to men and women disabled in military service through its Canines for Veterans program.
This national program provides quality, trained service dogs to veterans with service-connected disabilities, including mobility limitations, traumatic brain injury and clinically diagnosed post-traumatic stress disorder. Just like DAV, Canines for Veterans assists those who've served from every conflict and every era so that no veteran is left behind.
Many veterans face unforeseen challenges as a result of their service injuries. For some of our most profoundly injured veterans, a victory over those challenges can be as simple as restoring some of their self-reliance. Fortunately, the Trust supports programs that help veterans overcome both physical and psychological barriers.
The Trust seeks to partner with exceptional programs because establishing such opportunities for veterans takes time and resources. For veterans, having a service dog can be the essential component to regaining independence and enjoyment in their daily lives.
The Trust is proud to support this program, helping veterans reach their full potential by pairing them with the service dogs that can aid their post-military journey.