About
NCMEC is the nation's largest and most influential child protection organization. We lead the fight to protect children, creating vital resources for them and the people who keep them safe. Every child deserves a safe childhood.
Web Site www.missingkids.org
Email development@ncmec.org
Success Story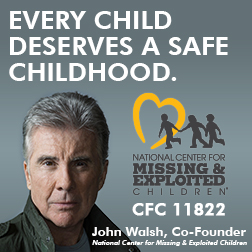 When Alicia Kozakiewicz was 13 years old, she got up from the dinner table, walked out the door into the waiting car of a man she met online and vanished without a trace.
Her story of survival is heroic as well as every family's nightmare. By sharing her story, Alicia is not only bringing awareness to the potential dangers online, she is also helping NCMEC educate caring adults about how to protect children from Internet predators.
As Alicia bravely recounts, "I had been groomed, lured from my home and abducted by an Internet predator who held me captive and shared my abuse online with others via streaming video. Helpless and terrified, I prayed for a miracle."
Alicia's parents, feeling powerless and terrorized, reached out to NCMEC to assist in finding their daughter. We responded immediately by creating and sending a missing person flyer throughout the community as well as posting the information online for a nationwide audience. It was a turning point in the search for Alicia.
"My face was seen by many, including a man with whom my captor had shared video of my torture. Recognizing me from my missing person poster, he called the FBI and shared the information which lead to my rescue.
Law enforcement located me, broke down the door, cut the chains from my neck and set me free. I am eternally grateful to the NCMEC and FBI for rescuing me and giving me a second chance at life.
I truly believe that without the help of NCMEC, I would not be here today. Thank you, NCMEC for all that you do to bring the missing home to their families and loved ones."
On behalf of every missing or sexually exploited child, please give generously to help bring them home.