About
HJF helps veterans and combat wounded, ill and injured Army, Navy, Air Force, Marine Corp and Special Forces warriors and their families. We provide accelerated advances in medical care through groundbreaking military medical research and education.
Web Site www.hjf.org
Email jvandermeersch@hjf.org
Success Story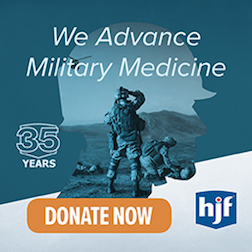 Our mission is to advance Military Medicine and our objectives are clear: to carry out medical research and education projects that provide answers and drive innovation while removing barriers to success; to serve as a trusted and responsive link between the military medical community, its private partners and American service members, veterans and civilians; to encourage engagement of the medical community for the mutual benefit of military and civilians, who benefit from this work.
In fiscal year 2018, 99.3% of HJF's revenue went to directly towards programmatic work. HJF is Veteran led and fully focused and committed to furthering military medicine.