About
HSF empowers Latino families with the knowledge and resources to successfully complete a higher education while providing scholarships and support services to as many exceptional Hispanic American students as possible.


Real Life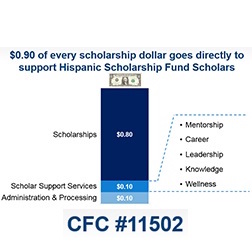 Sabrina Pasterski, 25, is a first-generation Cuban American, born to a Cuban mother and American father. She became fascinated with space while at the Edison Regional Gifted Center and began thinking about a Mars mission. She flew her first plane at age 9 and made her first solo flight on her 14th birthday in a single-engine plane that she spent two years building.
She told The Chicago Tribune she built the plane after mentioning her first flight to her teacher at the Illinois Mathematics and Science Academy, a school that nurtures scientific minds. Her teacher's reply became Sabrina's mantra: "That's nice but what have you done lately?"
Despite her early accomplishments, Sabrina was rejected by Harvard and waitlisted at MIT. Eventually, she was accepted by both and she earned her bachelor's degree from MIT with a 5.0 GPA! Today she is researching black holes, gravity and the relationship between space and time, in a PhD program at Harvard. She has written multiple papers, including one she co-authored with the late physicist Stephen Hawking. She has been invited to speak at prestigious venues like Princeton, Harvard, MIT, and international conferences such as CERN in Switzerland and Fischer Hall in London. She was the first woman to win the MIT Physics Orloff Scholarship award, was honored with MIT's Freshman Award for Distinguished Achievement in Entrepreneurship and has been featured in multiple publications, including Forbes' "30 Under 30 All Stars".
Sabrina encourages students to "be optimistic about what you believe you can do. When you're little, you say a lot of things about what you'll do or be when you're older. It's important not to lose sight of those dreams."