About
Lifting children out of poverty; protecting them from abuse and neglect; and ensuring their access to health care, quality education and a moral and spiritual foundation. We advocate for all children to ensure they are always a priority.
Web Site www.childrensdefense.org
Success Story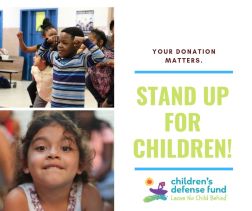 "Being with the Freedom Schools program since I was five and building up my reading levels, I have got more out of Freedom Schools than the regular public school system. It's not all about books, but it makes the love of reading a passion. I'm currently a school teacher. Being in Freedom Schools made me want to be a teacher because you learn things you don't see in regular history books." -David Williams, CDF Freedom Schools Ella Baker Trainer

There are 12.8 million children in America who are poor but living in working families. A disproportionate number are Black and Latino. Poor children lag behind their peers in many ways beyond income: They are less healthy, trail in emotional and intellectual development, and are less likely to graduate from high school. Poor children also are likely to become the poor parents of the future. Every year that we keep children in poverty costs our nation half a trillion dollars in lost productivity, poorer health and increased crime.


CDF works to give every child what they need to thrive and reach their full potential. More than 150,000 children have experienced the transformative power of the innovative CDF Freedom Schools® model, achieving an average of 8+ months in reading gains over a 6-week period. More than 16,000 young people have worked in CDF Freedom Schools, developing leadership skills and classroom experience. And more than 900 young people have been celebrated through our Beat the Odds program. These scholars, despite the odds being stacked against them, overcome great adversity, demonstrate academic excellence and give back to their communities.