About
Native American students on remote reservations dream of college but face obstacles and inequities: 61% are low-income, only 17% graduate high school, and 16% graduate college. Please remember them with funding for scholarships and school supplies.
Web Site www.nativepartnership.org
Success Story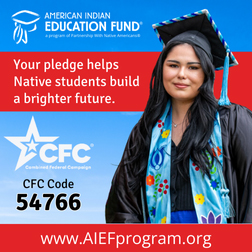 Dear Donors:
My name is Bailey Chalfant, and I am a proud Northern Cheyenne tribal member. I grew up on the banks of the Rosebud Creek and spent hot summer days riding through my family's cattle, something I still love to do now as an adult. I am a fourth-generation rancher, and above all, a steward to my homelands. In many ways, your compassion fuels this stewardship.
I was fortunate to be selected as an AIEF scholar as I started first semester for a master's in public health at the University of Montana. I cannot begin to express my appreciation for the support of the AIEF staff and donors. Across Indian Country, kids break through generational trauma, blaze new trails and ensure a bright future for their tribal communities – all through education. It takes a village to raise Native kids, and I am fortunate that AIEF is part of my village.
My education is not solely for my own advancement in life but more so as a declaration of love and appreciation to my parents, my sister and the community that shaped my identity.
When donors like you choose to fund Native American students, you are making a deliberate choice to feed the passion of someone who may have never had the financial support to do so. Only 16% of Native Americans have been able to graduate college, while 40% of Whites do. So, to all of you who support education, especially for students in Indian Country, Neashe (thank you).
Bailey Chalfant