About
Native American students on isolated reservations are facing many challenges: 35% are impoverished, about 50% drop out of high school and only 13% graduate college... but more want to. Please help us help them with vital scholarships and school supplies.


Real Life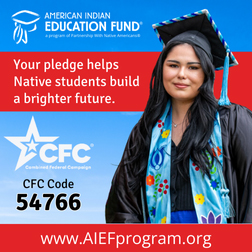 Alison Watson has helped her siblings see that success can come through school and all it takes is doing the hard work. Originally from Chinle, Arizona, Alison is Navajo. She attended Northern Arizona University in Flagstaff, earning a B.S. in Biology, with minors in Chemistry and Anthropology. At first, she struggled with the math and chemistry but joined American Indian Science and Engineering Society (AISES) to connect with other Native students and learn together. And she didn't stop there!
After graduation this May, Alison attended the Graduate Summer Transitional Enrichment Program (GSTEP) at the University of Arizona (U of A), a 10-week program supporting the successful transition of Native students into advanced degree programs. She was just hired as a research technician by U. of A., and her overall goal is to attain a Ph.D. This, and a little sibling rivalry to see who can get their master's first, is keeping her going!
Family is also central, and Alison feels lucky to be so supported. Her family reminds her "it is okay" when she can't make it home, because education and passing it on to her people is worth it. Alison is constantly balancing two worlds - that of school and her Navajo culture and traditional upbringing - and succeeding in both.
In her words: "My dream of college would not have been possible without AIEF. Their scholarships helped me -- I was not distracted by financial burdens at school -- and this also helped my parents and siblings. I am so grateful for the past four years of AIEF support. Ahe'hee (thank you in Navajo). I hope you will remember Native students like me need and appreciate your support."