About
Native American students on remote reservations are facing many challenges: 35% are impoverished, about 50% drop out of high school and only 13% graduate college... but more want to. Please, help us help them with vital scholarships and school supplies.


Real Life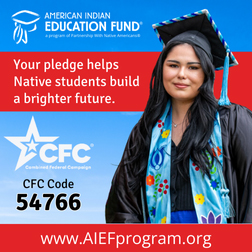 As an 18-year-old high school grad and Oglala Sioux tribal citizen, Josie Green began her studies in Graphic Communications and Leadership at Minnesota State University Moorhead, just three hours from where she grew up on the Lake Traverse Reservation. First semester was as expected until…
Josie went for a run on a riverside trail just before Thanksgiving and found two men on the shore asking to use her phone. Their friend Lucas had fallen off the bridge and was in the frigid waters. Risking her own life, Josie jumped in and pulled him back to shore. Sadly, Lucas passed a few days later, having been in the water too long before her daring rescue. Josie was awarded the Coast Guard Lifesaving Medal and Lucas' family honored Josie for her selflessness.
From the start, the American Indian Education Fund (AIEF) scholarship committee sensed Josie's determination and the strong likelihood she would make something important of her education.
"I had always wanted to go to college, mostly because I saw no other option. The reality of how big this decision was didn't hit me until my freshman year… when I saw my Native friends slowly begin to drop-out, often for financial reasons."
After earning her degree, Josie landed a job with Teach for America, first teaching on the Rosebud Reservation and now developing teachers to foster educational equity and excellence for all students.
In Josie's words: "Classrooms are the place where change can happen. Four years of AIEF scholarship funding helped change my life, and I hope donors remember there are Native American students like me who need your help and will make the most of scholarship funding."