About
Native American students on remote reservations dream of college despite many barriers: 35% are impoverished, only 17% graduate high school, and 13% graduate college. Please remember them with funding for scholarships and school supplies.
Web Site www.aiefprogram.org
Success Story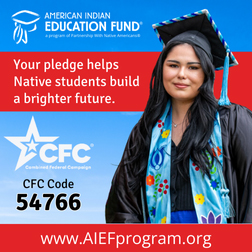 Meet Nurse Kassidy! Kassidy grew up in Whippoorwill, Arizona on the Navajo Reservation, 30 miles away from her K-12 schools. When she applied for an AIEF scholarship to finish her senior year in nursing, nothing was impacting tribal communities the way that COVID-19 has — particularly for the Navajo Nation.
Although Kassidy graduated high school in 2012, it took 4 years to complete the pre-requisites for nursing. She stayed focused and her mother (also a nurse) encouraged her. Besides carrying a full course load and a practicum, Kassidy also worked part-time to cover books, scrubs, school fees and living expenses.
It all paid off in Spring 2020 when Kassidy graduated (virtually) with a B.S. in Nursing. She quickly passed the licensing exam, started her nursing career at Tucson Medical Center and joined their nurse residency program. No profession is more honorable, challenging and self-sacrificing than nursing during a pandemic. She hopes to work at the Indian Health Service near her hometown soon, focusing on adult nursing, women's health and public health.
Kassidy thanks AIEF and donors like you for helping her and so many other Native American students get to the home stretch:
"I would like to acknowledge and thank the American Indian Education Fund program and its donors. Your support has helped make it possible for me to continue my education and reach my goals of becoming a nurse. I plan to give back to my community and empower them toward health and wellness. I would also like to dedicate this degree to my family and the many role models that have offered me so much time, advice, encouragement, prayers and kindness." — Kassidy, Class of 2020