About
Cattle must have access to pasture, chickens & turkeys must be cage-free, pigs must be free to move and root naturally. We provide scientifically based, practical husbandry solutions (with no antibiotics or hormones) for farmers to raise animals humanely.
Web Site www.CertifiedHumane.org
Email mimi@certifiedhumane.org
Success Story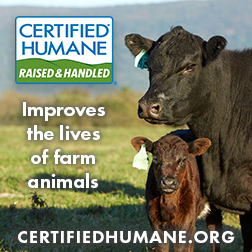 Whether or not you eat meat, egg or dairy products, you don't want to animals to suffer.
Unfortunately, over 10 billion animals raised for food in the U.S. annually endure inhumane treatment. Chickens can't flap their wings. Pigs can't turn around. They ingest antibiotics regularly.
You can improve the lives of farm animals and support farming the right way today.
The Certified Humane Raised & Handled program insures that animals are treated humanely from birth through slaughter. The American Society for the Prevention of Cruelty to Animals (ASPCA), The Humane Society of the United States (HSUS), and 65 other humane organizations support the program.
Humane Farm Animal Care, an independent non-profit, created the program. Our scientific committee created rigorous Animal Care Standards. Our inspectors thoroughly review participating farms annually. Certified Humane Raised & Handled earns Consumer Union's highest rating. USA Today called our certification program the "gold standard."
Our program covered over 86.8 million animals in 2013. But we need your support to help even more animals.
Please make a donation today, so we can get laying hens out of cages, free sows from gestation stalls and improve the lives of millions more farm animals.
"I… believe that developing a real and sound certification program around the issue of animal welfare is of great importance, and that you seem to be approaching that in an unusually clear-eyed and comprehensive way." - Michael Pollan, author, "The Omnivore's Dilemma"