About
Overpopulation causes hunger, water and energy shortages, pollution, and climate crises. NPG works to educate Americans on the need for a smaller, truly sustainable, population. Our plan calls for reduced immigration levels and smaller families.
Web Site www.NPG.org
Email npg@npg.org
Success Story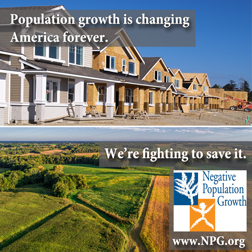 For more than 14 years, NPG has provided educational materials to teachers of middle and high school students. Our resources are designed to bring the population issue into the classroom – and allow students to see how population size and growth will affect their future. Since 2014, more than 136,000 students have heard NPG's message. We know teachers are grateful for the materials we provide and that the information is conveyed to an open audience. Here is what some teachers have told us recently:
"Thanks for these resources- this is an important topic ignored too long by too many. I think my students will enjoy, or at least find interesting, becoming aware of the implication of growing population."
P. M., High School Teacher, Silver Spring, MD

"Thank you! I use this information in my class every year! I appreciate the resources."
H. H., Middle School Teacher, Sault Ste. Marie, MI

"Thanks so much! Making this available in digital form saves me time because I usually end up doing this anyway for some."
L. G., Middle School Teacher, Opelika, AL

"Thanks so much for the digital versions. We are completely online for now and these resources will be used and are very appreciated!"
B. W., Middle School Teacher, Elgin, IL

"Thanks a million for your great service! I have worked with your material before and it proved to be especially useful in the ESL classroom. Let us all hope for a prosperous future on a balanced planet."
S. E., Bavaria, ESL Teacher, Muenchen Bavaria, Germany
NPG was founded in 1972 to educate all Americans regarding the need for policies designed to slow, halt, and eventually reverse population growth. Reaching young minds is critical to our efforts!