About
Children: victims of maltreatment, neglect and abandonment. These children need loving, stable and committed families the most. We believe every child deserves a loving family. Help us, help them!


Real Life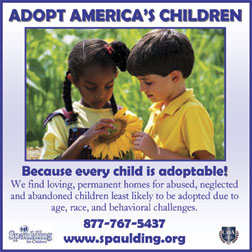 "Adopt America's Children (AAC) Is about Family"

AAC has supported children and families for more than 40 years. This story by Marion Hackett reminds us how much our dedication matters to those we serve:

"Mark and I decided to become foster parents three years into our marriage. On May 28, a beautiful, healthy, 10-week-old baby named Jared entered our lives. After he was in our home 15 months, Jared's birth parents gave up their legal rights.

"During this time, Jared developed many medical challenges: treatment for leukemia, remission and relapse; a bone-marrow transplant, remission and relapse. Having a sick child is stressful; working with a non-supportive agency made it more stressful. The best thing our former agency did was to refer our case to AAC.

"Despite the trials, there was never a question in our minds. We would adopt Jared. A few days after Jared's transplant, two AAC caseworkers were at our home.

"For AAC, it was never about 9 to 5. We could reach our caseworker at any time. Everyone knew how important it was to Jared and to us to become a 'legal' family. The average adoption can take up to a year. AAC completed Jared's in less than 30 days.

"Two years after Jared entered the Hackett's lives, on April 1, Mark and Marion Hackett had a son, Jared McKenna Hackett. Their time together was short. A brain tumor took Jared's life at age 2.

"We gave Jared life during those precious two years. AAC is about life. AAC is about family."