About
Through life-changing 4‑H programs, nearly 6,000,000 young people take on critical issues such as addressing community health inequities, engaging in civil discourse and advocating for equity and inclusion for all.
Web Site www.4-H.org
Email info@fourhcouncil.edu
Success Story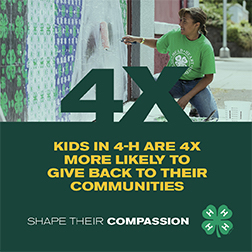 Join the Revolution of Responsibility!

The 4-H Tech Wizards

With an increasing prevalence of high-tech workplaces in Washington County, Oregon, it has been difficult for people in the community without computer skills to find employment. Jose Cazares was concerned about members of his community, both youth and adults, who were struggling to attain the skills they needed to be successful in today's technologically advanced society.

Jose and other members of the Tech Wizards 4-H group helped under-represented youth in their community to learn the importance of science, technology, engineering, and math education achievement. In addition, the Tech Wizards led tutorials to teach adults and others in their community how to e-mail, create a website, and effectively search on the internet.

The 4-H Tech Wizards are helping students develop industry and career awareness while acquiring technology skills. Through educational and service learning projects, students are able to apply for jobs online, achieve higher and better paying roles in the places they worked, and even take on more technologically focused positions. In addition, through their new skills, adults in the community are now able to seek better jobs, communicate via e-mail with their children's teachers, and connect with the world through online networks.

The Tech Wizards are helping their community bridge the digital divide by developing industry and career awareness while learning technical skills necessary to reach their goals.