About
Helping the poorest of the poor and disaster victims. Providing basic necessities and disaster relief, food, vitamins, clothing and education materials. Caring for a needy world and meeting the most basic needs of severely suffering people.
Web Site www.m25m.org
Email info@m25m.org
Success Story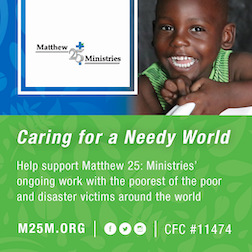 I raised my camera only to lower it. "I cannot," I shook my head. "I cannot intrude on this poor man's grief or his child's pain."

"But you must," insisted the doctor accompanying me. "It is the only way people will know of our situation."

In many developing countries, food is still cooked over an open flame in a firepit. Earlier that day, a pot of boiling milk spilled on this little boy, severely burning him on his head and upper body.

The father grabbed the toddler and carried him on foot to the nearest hospital, which took about two hours. Once he arrived at the hospital, he had to wait for hours because of the shortage of medical personnel and the many people ahead of him. The hospital did the best they could, which was very little. The hospital had no medicine; no bandages or dressings; no antibiotics; nothing for the child's excruciating pain. I was told by the doctor that the boy would survive, but it would be a painful recovery and he would be noticeably scarred for the rest of his life.

For more than 30 years, Matthew 25: Ministries has worked with partners throughout the US and all over the world to bring basic necessities, medical supplies, educational materials, improved living conditions and housing, work and small business opportunities to un- and underserved areas of our own county and developing countries worldwide so that these tragic circumstances will not continue to happen. More than 20 million people each year benefit from the over 15,000,000 pounds of supplies that Matthew 25 ships to domestic and international locations. Matthew 25 is expanding in order to help even more people in need worldwide.