About
We offer plant based foods to people in our community many living in poverty. Our food outreach work is a labor of love and respect for people, animals and our environment. All donations used to get healthy vegetarian foods to those facing food insecurity.
Web Site www.kindveg.org
Email capfoodpantry@gmail.com
Success Story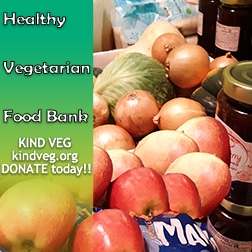 We work with social service agencies to help their clients get healthy plant based food. The people in this photo are newcomers to America. Kind Veg has been offering International Institute clients nutritious plant based foods each month since November 2017.
Most of the people in this photo are from the Democratic Republic of the Congo, which has had an on-and-off civil war since the 1960's. There are a few Guatemalan ladies on the right side of the photo. The Guatemalan families are related to each other, and they had to flee because their family was targeted with intimidation and violence. This photo was taken when the people shown graduated from their English as a second language class. After they graduate, more new people from other countries come to our city to find new lives free from persecution and harm.
Other types of agencies Kind Veg helps includes homeless shelters, veterans and mental health agencies. Donations are greatly appreciated and will be used to purchase healthy food for people in need.