About
Our vision is to end animal homelessness in the US while giving our veterans, wounded warriors, and active duty military from the Army, Marine Corps, Navy, Air Force, and Coast Guard the greatest "thank you" of all: the love of a companion pet.
Web Site www.petsforpatriots.org
Success Story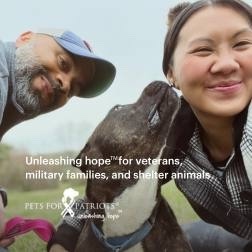 Wilma was a Navy veteran struggling with loneliness, depression and chronic pain. She fell in love with an abandoned Pit Bull when she saw her photograph.
"I don't know how to explain it to you," she says, "but it was all hearts and flowers."
The dog's mouth was wide open and she had a clownish look to her face. Edith's silliness appealed to Wilma, a self-described "goof."
Wilma needed a little goofiness in her life.
The Navy veteran was sinking into depression. She was lonely and struggling to cope with constant back pain. Wilma had just laid her beloved German Shepherd to rest and her heart was still sore from the loss.
Everything changed once Wilma brought Edith home.
"Edith came into my life and it was like a light," she says.
The once abandoned Pit Bull has a special way of connecting to Wilma – and the two are now inseparable. Sometimes Wilma has bad days and still feels lonely; other times her back pain flares up. But because Edith is there, neither the loneliness nor the pain last very long.
"It's funny," she says, "how a cuddle from a goofy-faced Pit Bull can put a smile on your face and make your day a little brighter."
The Navy veteran is grateful she can rely on Pets for Patriots for help if she needs it, which is why donations are essential to sustaining our work.
The quirky, abandoned Pit Bull has revived Wilma's spirit and renewed her sense of purpose.
"Now that Edith is here there is life," she says. "I believe sincerely that this dog would lay down her life for me."