About
Guided by Buddhist teachings, we feed the hungry, educate children in need worldwide, empower women and girls, and support sustainable agriculture. We also provide emergency food assistance in response to environmental and man-made crises around the world.
Web Site www.buddhistglobalrelief.org
Success Story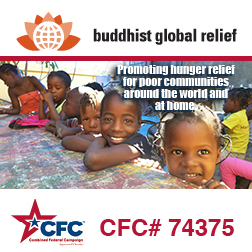 From recipient of the Buddhist Global Relief supported Asral Hot School Lunch Project in Ulanbaatar, Mongolia:
D. Namuunaa is a 14-year old girl who is in the eighth grade at the 113th school in the Bayangol district. Her father died in a car accident and her mother, who has a drinking problem, left the family a long time ago, and her whereabouts is unknown. Namuunaa lives with her deceased father's older brother's wife. She does not have a secure, permanent place to live and moves between her relatives' homes. She looks after her relatives' children and helps around the house. She has little time for studying or attending other activities at school. She is interested in the social sciences. She is quiet, humble, a very good student and is kind to others. Her health is not good; she has stomach problems and her teeth need a good deal of dental work. She is not dressed adequately for winter, and sometimes goes to the Asral Center without warm shoes.
The Hot Meal Project provides the nutrition to help Namuunaa survive the harsh winter, keeps her within a circle of friends, and provides a quiet space where she can study. Last year, Asral Center found a donor to pay for some of her dental work, which has helped to improve her studies, sleep well without dental pain, smile more, and chew her food better. When Panchen Otrul Rinpoche visited in summer, 2018, she received donated clothes that helped to build her confidence to remain in school.