About
Goal: promote global security by ending extreme poverty in remote, rural areas of fragile states & conflict zones by building self-sustaining, self-scaling programs that enable communities to lift themselves out of extreme poverty.
Web Site www.nuruinternational.org
Success Story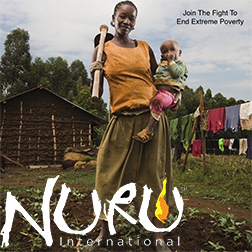 Josphat Maroa lives in Migori County, Kenya and joined Nuru International's programs. Here is his story in his own words: Before Nuru, we were farming and not getting good yield. Like in one acre, I was getting just two to three sacks of maize (Six are needed to address hunger in a household). But after joining Nuru, in the first year in one acre I got 31 sacks per acre. Even my family was very proud. Being a leader and field manager with Nuru, I am very happy seeing the change taking place in my community as I train them so that their hunger can disappear and even their life changes. I've started teaching my children to be servant leaders, because "bosses" are not helping the community, but servant leaders are people who help the community.