About
Naval War College Foundation supports the College to advance farther, faster in areas such as critical research, leadership development, and strategy. Gifts to the NWCF are investments in a nation and a world that is safer and more enriching for everyone.
Web Site www.nwcfoundation.org
Email INFO@NWCFOUNDATION.ORG
Success Story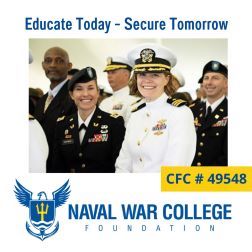 The U.S. Naval War College (NWC) is America's premier institution in professional military education. Innovative teaching, training, and research originating at the NWC contribute directly to current fleet efforts and to long term relationship building within the international community, stressing diplomacy and conflict prevention over a call to arms. More than 600 students, military officers from all five branches as well as civilians from government agencies, participate annually in resident programs at the NWC. Over 300,000 more learn at sea or at remote locations through distance education.
In addition, each year the USNWC welcomes approximately 100 senior naval officers from allied nations to participate in an 11-month Naval Command College (NCC) designed to build trust, confidence, and cooperation between American and international officers. Like their U.S. counterparts, these international officers bring their families, and they too make friends in this global community. Since 1957, more than 2,000 naval officers from over 100 allied nations have participated. Being selected is an honor as many alumni go on to become ministers of defense, ambassadors, heads of state, and heads of services in their home nation. As part of the NCC program, students share their culture, cuisine, and experiences with other students and some volunteer as guest lecturers in an international studies class at a local public high school. NCC students also participate in nationwide field trips that teach them about the American way of life. NCC creates broader opportunities for mutual understanding and diplomacy to further advance security and peace nationally and among nations.