About
Working in partnership with Gettysburg National Military Park to preserve and protect the battlefield while providing a quality experience for visitors of all ages at our museum and other educational venues.
Web Site www.gettysburgfoundation.org
Success Story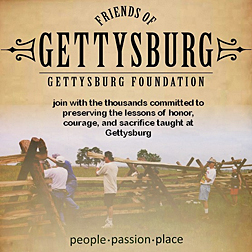 In 1997 I discussed with my father, an Iwo Jima survivor, the possibility of taking a trip somewhere. We decided to spend 3 days in Gettysburg. The grandeur of the battlefield, with all of the monuments was inspiring. I stood at the Virginia Memorial (which features Robert E. Lee) and looked across the field toward the copse of trees and was stunned by its beauty, its simplicity, and by the knowledge of the horror and courage that took place there. I visited the National Cemetery at sunrise the next morning. It was a powerful experience. I have been to Gettysburg 5 times with my friends and family since that trip.
I am proud to be a member of the Gettysburg Foundation. Its mission to rehabilitate and help maintain the battlefield is one that honors those who gave their all to fight for a belief. Gettysburg is an unique American treasure, one that was molded in courage and blood. -Kerry Hotaling Ludlow, MA