About
Missing children most often runaway to escape home violence & abuse, or are abducted by family members. They are lured into trafficking by strangers. Our specialists prevent & resolve kidnappings, and family conflict to prevent children from going missing.
Web Site www.childfindofamerica.org
Success Story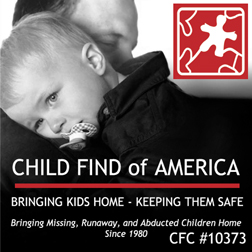 "Child Find of America has saved our lives. Thank you...for giving us Peace."


For 7 months, a frantic Iowa couple searched for their 17-year old daughter Maryann, who had been lured from home by a 40-year-old man. Then they called Child Find, who located and assisted in Maryann's recovery in one day.

For 4 years a father searched for his daughter, Dee. Dee's mom had forced her into a life on the run surrounded by drugs and violence. In less than a month, Child Find located Dee and reunited her with her dad.

For 1 year, Donnell tried to find his 10-year-old son, who had been taken by the boy's mother. Almost immediately after his case was opened Child Find located them. Donnell wrote to his Child Find caseworker:

"The opportunity to see my son was priceless. I believe with all my heart...that opportunity was because of Child Find of America. There is no doubt in my mind that if it were not for your office a void in the lives of both my son and I, would never be filled.
There isn't any way possible to repay someone who has saved your life...Child Find of America has saved our lives. If anyone thinks that this is an exaggerated statement it is because they've never had a child abducted. It is the worst thing imaginable. Thank you...for giving us peace." - Donnell R. New York, NY
Child Find of America: Bringing Missing, Runaway & Abducted Children Home and Keeping Them Safe since 1980.